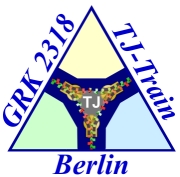 DFG Research Training Group "TJ-Train" (GRK 2318)
Tight junctions and their proteins
Molecular features and actions in health and disease

Project C3
Dr. Michael Schumann


& Prof. Dr. Britta Siegmund


Med. Klinik m.S. Gastroenterologie, Infektiologie & Rheumatologie,
Campus Benjamin Franklin, Charité - Universitätsmedizin Berlin
Epithelial dyspolarity in chronic intestinal inflammation
It is well established that polarity processes in epithelial cells are central to the barrier function these cells impose. A set of polarity complex proteins regulates the molecular composition of the apical junctional complex that includes the tight junction (TJ) and the adherens junction. We and others have shown that inflammatory conditions induce dyspolarities in intestinal epithelia that might precede the emergence of barrier defects. Mucosal barrier defects are central to the development of inflammatory bowel diseases (IBD), as Crohn´s disease (CD) or ulcerative colitis. Thus, we ask for the role of polarity regulation in IBD.
Main focus will be the action of interleukin-22 (IL-22), a TH17 cytokine being central in the immune reaction leading to CD and with its receptor being expressed on epithelia. Preliminary data reveal a strong activity of IL-22 in regulation of epithelial polarity but also in colitis-associated carcinogenesis.
We hypothesize that IBD-associated mucosal inflammation can cause polarity defects of intestinal epithelia. Thus, we are going to examine polarity complex in IBD and will associate this with determining paracellular permeability. Moreover, we hypothesize that certain cytokines are responsible for this polarity phenotype by inducing a mis-trafficking of certain polarity proteins. Candidates from preliminary experiments are Par-3, Dlg1 and Crb-3.
Central techniques of this project will include standard molecular biology and cell biology techniques (i.e. immunostaining, confocal microscopy, Western blotting) as well as physiological techniques to characterize barrier function (using Ussing chambers, i.e. impedance spectroscopy, flux measurements). The newly developed sandwich assay will be used to spatially correlate polarity defects and barrier leaks. Trafficking and expression of polarity proteins (Pard3, Dlg1, Crb3, PIP-binding moieties) will be analyzed by live-cell-confocal microscopy using a 3D-cyst model of intestinal Caco-2 cells expressing fluorescently-tagged polarity proteins.
In summary, our specific thesis projects for two doctoral students (1 PhD and 1 MD) are:
(i) Examine establishment and loss of epithelial polarity in Crohn´s disease and ulcerative colitis by combining a cell culture-based approach and ex vivo experiments using human mucosal tissue samples.
(ii) Uncovering mechanisms leading to defective intracellular trafficking in polarity proteins as Par-3 in intestinal epithelial cells under conditions of inflammation.
PhD doctoral student
Cardoso-Silva D*, Delbue D* (*shared first authorship), Itzlinger A, Moerkens R, Withoff S, Branchi F, Schumann M (2019) Intestinal barrier function in gluten-related disorders. Nutrients 11(10): 2325 (19 pages) (°IF 4.2) [PubMed] [WebPage] [PDF] (Review)
MD doctoral student
Project-related publications
If a paper is not accessible, please mail to

.
Richter JF, Schmauder R, Krug SM, Gebert A, Schumann M (2016) A novel method for imaging sites of paracellular passage of macromolecules in epithelial sheets. J. Control Release 229: 70-79 [PubMed]

Lissner D, Schumann M, Batra A, Kredel LI, Kühl AA, Erben U, May C, Schulzke JD, Siegmund B (2015) Monocyte and M1 macrophage-induced barrier defect contributes to chronic intestinal inflammation in IBD.

Inflamm. Bowel Dis. 21: 1297-1305 [PubMed]

Kredel LI, Batra A, Stroh T, Kühl AA, Zeitz M, Erben U, Siegmund B (2013) Adipokines from local fat cells shape the macrophage compartment of the creeping fat in Crohn's disease.

Gut 62: 852-862

Batra A, Heimesaat MM, Bereswill S, Fischer A, Glauben R, Kunkel D, Scheffold A, Erben U, Kühl A, Loddenkemper C, Lehr HA, Schumann M, Schulzke JD, Zeitz M, Siegmund B (2012) Mesenteric fat-control site for bacterial translocation in colitis?

Mucosal Immunol. 5: 580-591

Schumann M, Günzel D, Buergel N, Richter JF, Troeger H, May C, Fromm A, Sorgenfrei D, Daum S, Bojarski C, Heyman M, Zeitz M, Fromm M, Schulzke JD (2012) Cell polarity-determining proteins Par-3 and PP-1 are involved in epithelial tight junction defects in coeliac disease.

Gut 61:

220-228

[PubMed]

Schuster M, Glauben R, Plaza-Sirvent C, Schreiber L, Annemann M, Floess S, Kühl AA, Clayton LK, Sparwasser T, Schulze-Osthoff K, Pfeffer K, Huehn J, Siegmund B, Schmitz I (2012)

IkBNS protein mediates regulatory T cell development via induction of the Foxp3 transcription factor. Immunity 37: 998-1008

Gerling M, Glauben R, Habermann JK, Kühl AA, Loddenkemper C, Lehr HA, Zeitz M, Siegmund B (2011) Characterization of chromosomal instability in murine colitis-associated colorectal cancer.

PLoS One 6: e22114

Glauben R, Batra A, Stroh T, Erben U, Fedke I, Lehr HA, Leoni F, Mascagni P, Dinarello CA, Zeitz M, Siegmund B (2008) Histone deacetylases: novel targets for prevention of colitis-associated cancer in mice.

Gut 57: 613-622

Schumann M, Richter JF, Wedell I, Moos V, Zimmermann-Kordmann M, Schneider T, Daum S, Zeitz M, Fromm M, Schulzke JD (2008) Mechanisms of epithelial translocation of the alpha(2)-gliadin-33mer in coeliac sprue.

Gut 57:

747-754

[PubMed]

Stroh T, Batra A, Glauben R, Fedke I, Erben U, Kroesen A, Heimesaat MM, Bereswill S, Girardin S, Zeitz M, Siegmund B (2008) Nucleotide oligonerization domains 1 and 2: regulation of expression and function in preadipocytes.

J. Immunol. 181: 3620-3627

Batra A, Pietsch J, Fedke I, Glauben R, Okur B, Stroh T, Zeitz M, Siegmund B (2007) Leptin-dependent toll-like receptor expression and responsiveness in preadipocytes and adipocytes.

Am. J. Pathol. 170: 1931-1941

Siegmund B, Sennello JA, Jones-Carson J, Gamboni-Robertson F, Lehr HA, Batra A, Fedke I, Zeitz M, Fantuzzi G (2004) Leptin receptor expression on T lymphocyte modulates chronic intestinal inflammation in mice.

Gut 53: 965-972

Siegmund B, Lehr HA, Fantuzzi G (2002) Leptin: a pivotal mediator of intestinal inflammation in mice.

Gastroenterology 122: 2011-2025