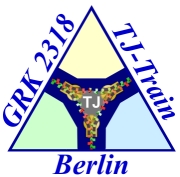 DFG Research Training Group "TJ-Train" (GRK 2318)
Tight junctions and their proteins
Molecular features and actions in health and disease

Project C1
Prof. Dr. Jörg-Dieter Schulzke1


& Priv.-Doz. Dr. Hanno Troeger2


1Clinical Physiology / Nutritional Medicine,
2Med. Klinik m.S. Gastroenterologie, Infektiologie & Rheumatologie, CBF,
Charité - Universitätsmedizin Berlin
Bacterial toxins' impact on epithelial tight junctions
Hypotheses and Aims: cholerae, Campylobacter concisus and other pathogenic bacteria release zonula occludens toxins (ZOT) and ZOT-related toxins, which can affect the tight junction of gastrointestinal epithelia. These toxins are considered to cause diarrhea (leak flux diarrheal mechanism) and progression of inflammatory bowel diseases (leaky gut concept).
Methods: The doctoral student will study tight junction structure and function in cell and mouse models, organoids and human tissue specimens with molecular methods e.g. confocal microscopy and RNA sequencing (including pathway analysis) and with functional electrophysiological measurements. Effects of the toxins are studied by cloning and overexpression of toxins and are interpreted in comparison to the effects of whole bacteria and bacterial supernatants.
Work plan: The central part of this project is concerned with extra- and intracellular signaling either directly at the epithelium or via the mucosal immune system, which is studied in co-cultures of epithelial cell models and/or organoids, together with M1-macrophages. Proinflammatory functionality is finally investigated using an inflammation-prone mouse model.
PhD doctoral student, 2nd cohort
PhD doctoral student, 1st cohort
Nattramilarasu PK, Lobo de Sá FD, Schulzke JD, Bücker R (2021) Immune-mediated aggravation of the Campylobacter concisus-induced epithelial barrier dysfunction.

Int. J. Mol. Sci. 22(4): 2043 (23 pages). doi: 10.3390/ijms22042043, Supplement PDF (°IF 4.6)

Nattramilarasu PK, Bücker R, Lobo de Sá FD, Fromm A, Nagel O, Lee IM, Butkevych E, Mousavi S, Genger C, Kløve S, Heimesaat MM, Bereswill S, Schweiger MR, Nielsen HL, Troeger H, Schulzke JD (2020) Campylobacter concisus impairs sodium absorption in colonic epithelium via ENaC dysfunction and claudin-8 disruption. Int. J. Mol. Sci. (Special Issue "Ion and molecule transport in membrane systems 2.0") 21(2): e373 (23 pages) (°IF 4.6) [PubMed] [WebPage] [PDF] [Supplements]

Lobo de Sá FD, Butkevych E, Nattramilarasu PK, Fromm A, Mousavi S, Moos V, Golz JC, Stingl K, Kittler S, Seinige D, Kehrenberg C, Heimesaat MM, Bereswill S, Schulzke JD*, Bücker R (*corresponding) (2019) Curcumin mitigates immune-induced epithelial barrier dysfunction by Campylobacter jejuni. Int. J. Mol. Sci. 20(19): 4830 (19 pages) (IF 4.6) [Pubmed] [WebPage] [PDF]
MD doctoral students
Project-related publications
If a paper is not accessible, please mail to

.
Bücker R, Schulz E, Günzel D, Bojarski C, Lee IM, John LJ, Wiegand S, Janßen T, Wieler LH, Dobrindt U, Beutin L, Ewers C, Fromm M, Siegmund B, Troeger H, Schulzke JD (2014) α-Haemolysin of

Escherichia coli: a potentiator of inflammatory activity in the colon. Gut 63: 1893-1901

Schumann M, Günzel D, Buergel N, Richter JF, Troeger H, May C, Fromm A, Sorgenfrei D, Daum S, Bojarski C, Heyman M, Zeitz M, Fromm M, Schulzke JD (2012) Cell polarity-determining proteins Par-3 and PP-1 are involved in epithelial tight junction defects in celiac disease.

Gut 61: 220-228

Bücker R, Krug SM, Rosenthal R, Günzel D, Fromm A, Zeitz M, Chakraborty T, Fromm M, Epple HJ, Schulzke JD (2011) Aerolysin from Aeromonas hydrophila perturbs tight junction integrity and cell lesion repair in intestinal epithelial HT-29/B6 cells.

J. Infect. Dis. 204: 1283-1292

Amasheh M, Fromm A, Krug SM, Amasheh S, Andres S, Zeitz M, Fromm M, Schulzke JD (2010) TNFalpha-induced and berberine-antagonized tight junction barrier impairment via tyrosine kinase, pAkt, and NFkB signaling.

J. Cell Sci. 123: 4145-4155

Bücker R*, Troeger H* (*shared first authorship), Kleer J, Fromm M, Schulzke JD (2009) Arcobacter butzleri induces barrier dysfunction in intestinal epithelial cells.

J. Infect. Dis. 200: 756-764

Epple HJ, Schneider T, Troeger H, Kunkel D, Allers K, Moos V, Amasheh M, Loddenkemper C, Fromm M, Zeitz M, Schulzke JD (2009) Impairment of the intestinal barrier is evident in untreated but absent in suppressively treated HIV-infected patients.

Gut 58: 220-227

Troeger H, Loddenkemper C, Schneider T, Schreier E, Epple HJ, Zeitz M, Fromm M, Schulzke JD (2009) Structural and functional changes of the duodenum in human norovirus infection.

Gut 58: 1070-1077

Schumann M, Richter JF, Wedell I, Moos V, Zimmermann-Kordmann M, Schneider T, Daum S, Zeitz M, Fromm M, Schulzke JD (2008) Mechanisms of epithelial translocation of the a2-gliadin-33mer in celiac sprue.

Gut 57: 747-754

Troeger H*, Richter JF* (*shared first authorship), Beutin L, Günzel D, Dobrindt U, Epple HJ, Gitter AH, Zeitz M, Fromm M, Schulzke JD (2007)

E. coli alpha-hemolysin induces focal leaks in colonic epithelium – a novel mechanism of bacterial translocation. Cell. Microbiol. 9: 2530-2540

Wahnschaffe U, Ullrich R, Riecken EO, Schulzke JD (2001). Celiac disease-like abnormalities in a subgroup of patients with irritable bowel syndrome.

Gastroenterology 121: 1329-1338