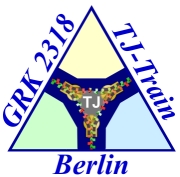 DFG Research Training Group "TJ-Train" (GRK 2318)
Tight junctions and their proteins
Molecular features and actions in health and disease

Project C2
Priv.-Doz. Dr. Susanne M. Krug


& Prof. Dr. Michael Fromm


Institute of Clinical Physiology, Campus Benjamin Franklin,
Charité - Universitätsmedizin Berlin
Role of the tricellular tight junction in inflammatory bowel diseases
The tricellular TJ (tTJ) is considered to form a structural weak point of the barrier-forming TJ network (13). Passage of medium-sized and large molecules might be facilitated in this region in diseased states. Tricellulin plays a critical role for barrier formation against macromolecule passage but the general processes and concepts behind are widely unknown. In first studies with human colon biopsies we have shown that tricellulin is downregulated in the inflammatory bowel disease (IBD) ulcerative colitis and the tTJ is opened (3). We hypothesize that this causes luminal pathogens to pass which then support the inflammatory process (5, 10). A role of other proteins, which are located at the tTJ, e.g. angulins (LSR, ILDR1, ILDR2) (1), as well as for occludin might be assumed.
Our thesis topics comprise characterizing the tTJ proteins regarding their distinct function in IBD development and their regulation, as well as analyzing pathways of large-molecule passage across the bicellular and the tricellular TJ. The projects will cover regulation of macromolecule passage via the tricellular tight junction and functional characterization of tricellular tight junction proteins involved in IBD.
Besides standard molecular biological techniques to analyze expression and localization changes of tTJ proteins in IBD compared to control patients, overexpression and knockdown clones of the respective tTJ proteins are going to be generated and analyzed (13). Methods are Ussing chamber techniques including flux measurements and two-path impedance spectroscopy (14), confocal microscopic methods and visualization of macromolecule passage (9) as well as ultrastructural analysis using freeze fracture electron microscopy (7). Analysis of regulatory pathways include cytokine and inhibitor treatments of intestinal epithelial cell lines, followed by protein and RNA level evaluation as well as promotor analysis.
In summary, our specific thesis projects for two doctoral students (1 PhD and 1 MD) are:
- Regulation of macromolecule passage via the tricellular tight junction.
- Functional characterization of tricellular tight junction proteins involved in IBD.
PhD doctoral student
MD doctoral student
Thesis project for one Charité MD student, starting anytime.
For financing the necessary study interception, the DFG provides a one-year student grant.
Project-related publications
If a paper is not accessible, please mail to .
(Review)