Zurück
Die Tight Junction (TJ) verbindet benachbarte epitheliale oder endotheliale Zellen und ist damit zentrales Element der Barrierefunktion, indem sie die parazelluläre Passage von Soluten und Wasser steuert. Ob die TJ dabei nur abdichtet oder auch gezielt Permeabilität vermittelt, variiert in verschiedenen Geweben stark und wird durch die Zusammensetzung der TJ-Proteine bestimmt.
Man unterscheidet zwei Familien von TJ-Proteinen, die Claudine und die TAMPs. Bisher wurden bei Säugern 27 Claudine entdeckt.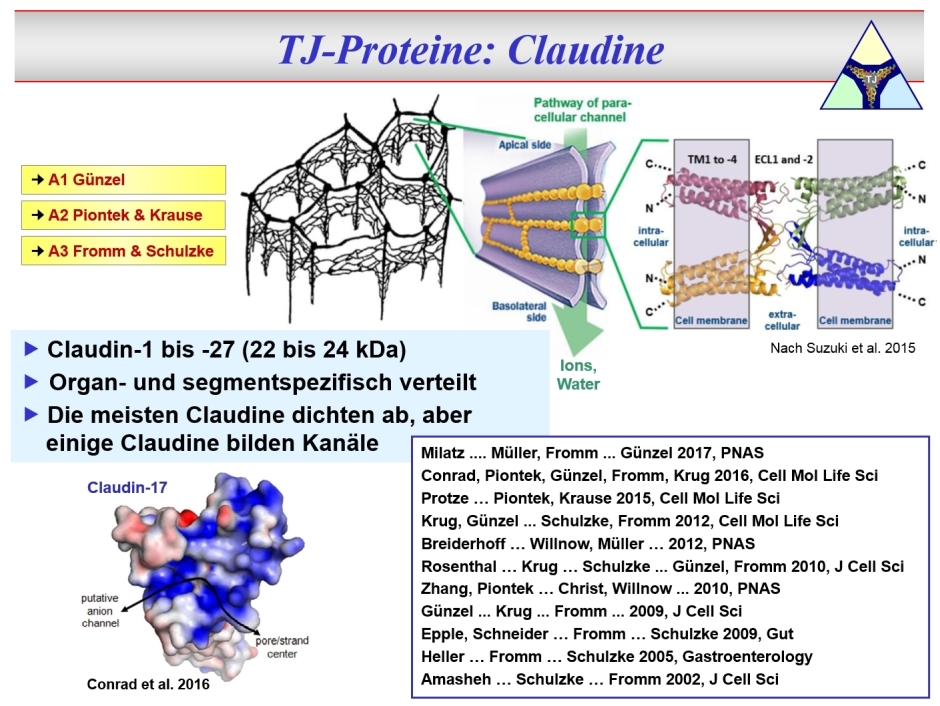 Die zweite Familie von TJ-Proteinen sind die TAMPs mit ihren Mitgliedern Occludin, Tricellulin und Marvel D3.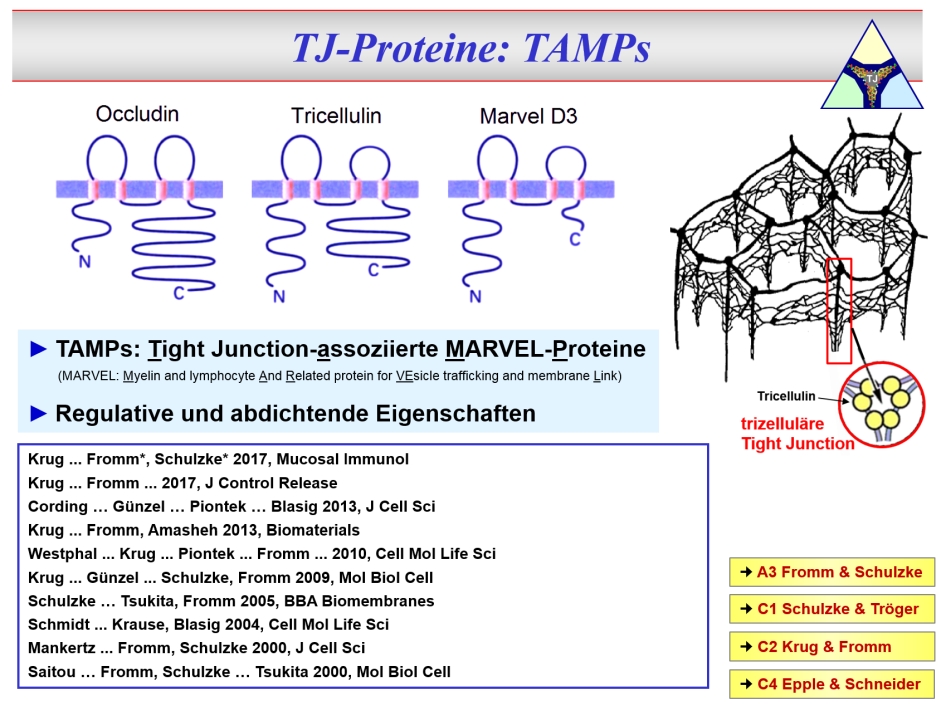 TJs werden durch zahlreiche extra- und intrazelluläre Signale reguliert, regulieren jedoch auch ihrerseits epitheliale Funktionen und zelluläre Differenzierung. Zudem dienen zahlreiche TJ-Proteine bestimmten Erregern als Rezeptor. Folglich sind TJ-Proteine an der Pathogenese zahlreicher Krankheiten beteiligt. Veränderungen der TJ Zusammensetzung und Architektur rufen z.B. unerwünschten Leckfluss oder Antigen-Durchtritt hervor und können auf diese Weise Krankheitsprozesse unterhalten oder sogar direkt Krankheiten auslösen.
Die im Gradiertenkolleg TJ-Train verwendeten Methoden umfassen ein breites Spektrum von modernen molekularbiologischen, morphologischen und zellphysiologischen Techniken.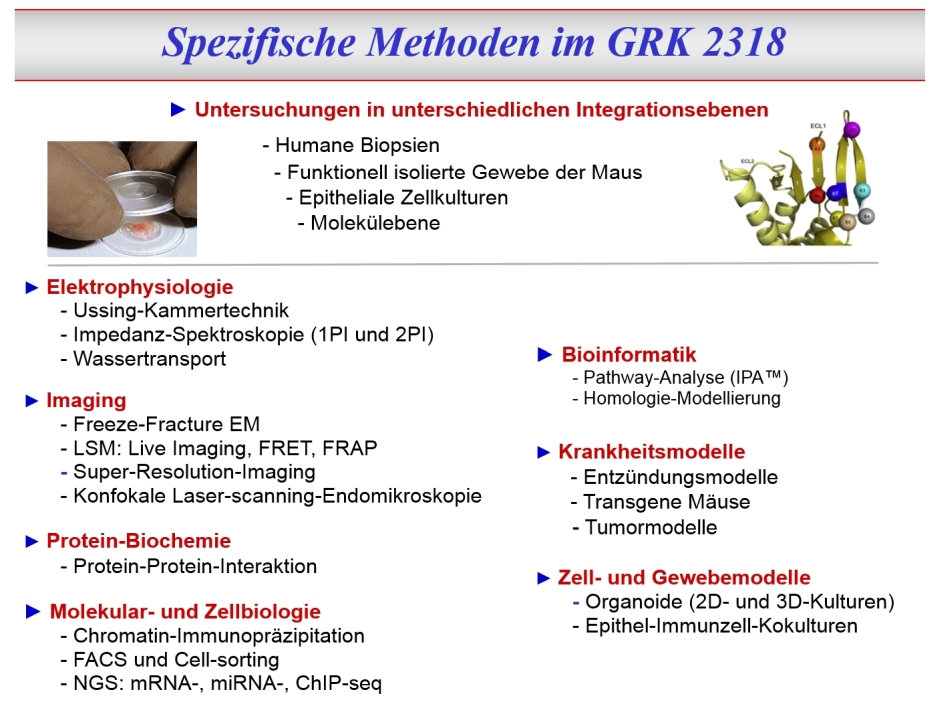 Sämtliche Projekte des Graduiertenkollegs besitzen einen Bezug zu Erkrankungen.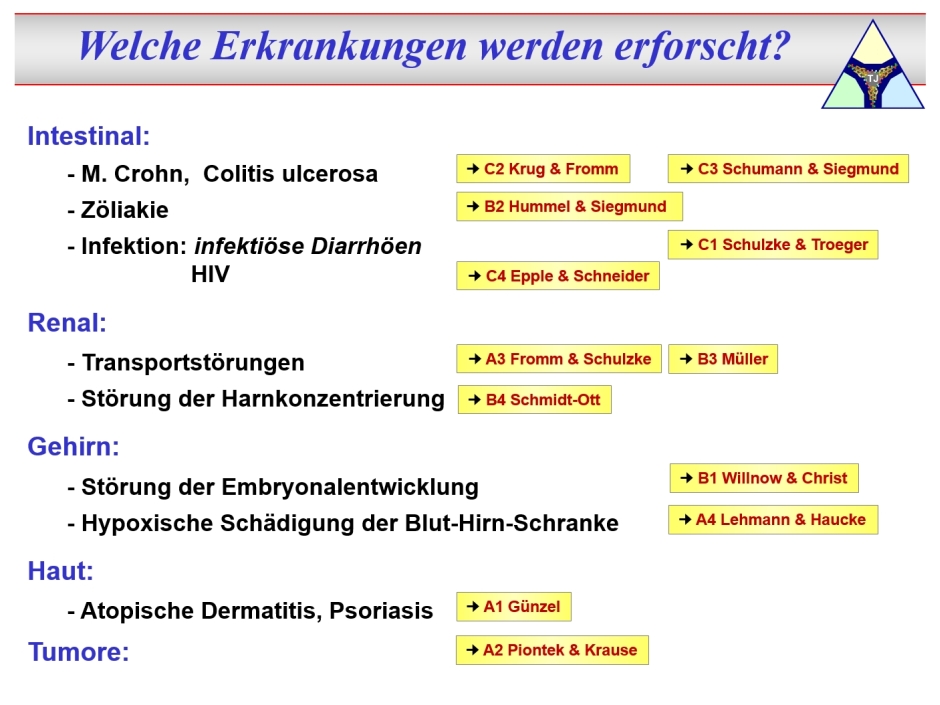 Das Themenspektrum der 12 Projekte des Graduiertenkollegs umfasst Forschung vom Organ bis zum TJ-Proteinmolekül.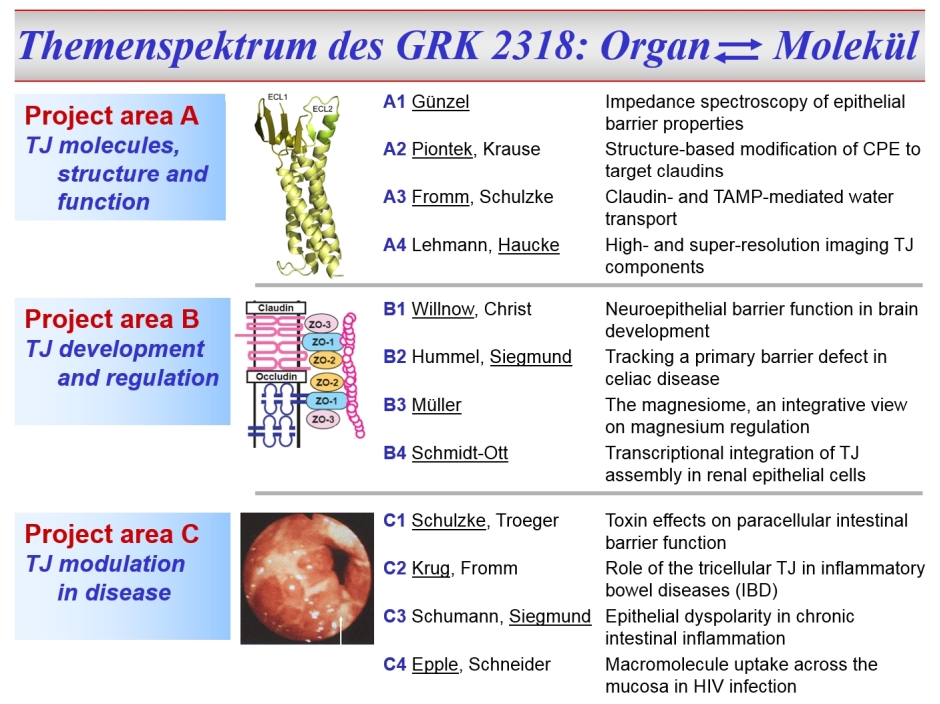 Berlin hat sich, insbesondere durch die DFG-Forschergruppe FOR 721/1 und /2, zu einem Zentrum der TJ-Forschung entwickelt (Tabelle 1), das sich durch eine enge Verflechtung von Grundlagenforschung und klinischer Forschung auszeichnet.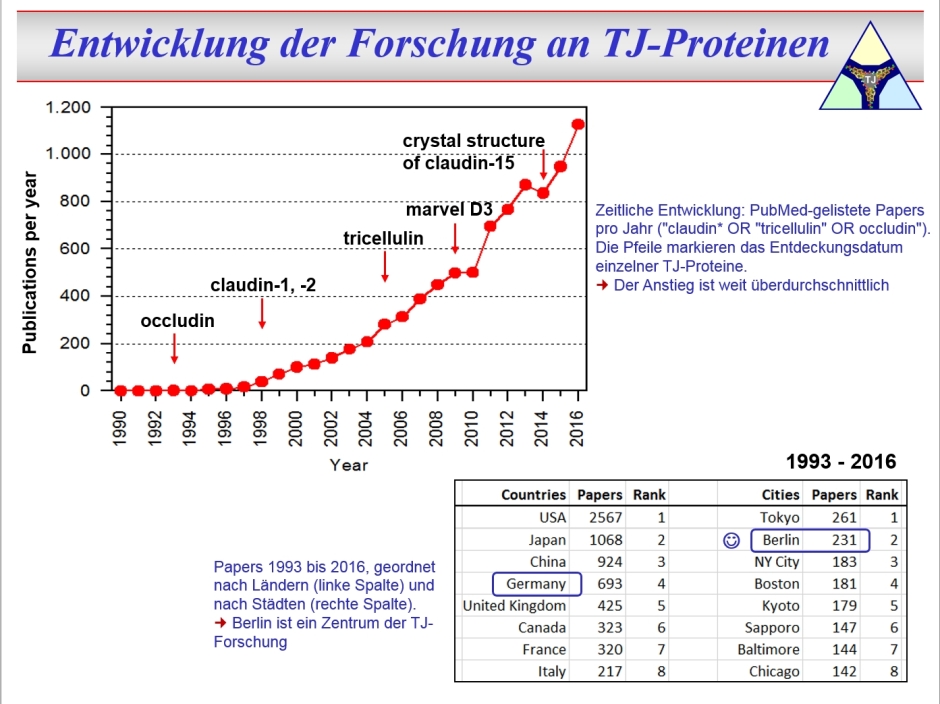 In diesem Umfeld ist unser Graduiertenkolleg "TJ-Train" angesiedelt. Es zielt darauf ab, PhD- und MD-Studenten gemeinsam auszubilden und so einerseits die angehenden Ärzte an die Grundlagenforschung heranzuführen und andererseits den PhD-Studenten klinische Aspekte und Fragestellungen nahezubringen.
Pro Kohorte sollen jeweils 12 PhD- und 12 MD-Studenten ausgebildet werden, PhDs jeweils für die Dauer von 3 Jahren, MDs für die Dauer von 12 Monaten. Somit soll "TJ-Train" neben einer Ausbildung für die Forschung und einer Vermittlung eines breiten Grundwissens vor allem den Wissenstransfer zwischen theoretischer und klinischer Forschung stärken und translationale Forschungsansätze fördern.
Durch die beteiligten Wissenschaftler und ihren Arbeitsgruppen steht allen Doktoranden ein sehr breites Methodenspektrum zur Verfügung (darunter modernste molekularbiologische und elektrophysiologische Techniken, biophysikalische und bioinformatische Methoden, Super-Resolution-Lichtmikroskopie, Next-Generation-Sequencing), das zur Analyse von Zellkultur-Modellen, Tiermodellen und menschlichen Biopsien eingesetzt werden wird.
Übersichtsartikel (und einige Originalarbeiten) zur Einführung in das Forschungsgebiet:
If a paper is not accessible, please mail to

.
Günzel D, Yu AS (2013) Claudins and the modulation of tight junction permeability. Physiol. Rev. 93(2): 525-569 [PubMed] [WebPage] [PDF]

Günzel D, Fromm M (2012) Claudins and other tight junction proteins. Compreh. Physiol. (former Handbook of Physiology) 2(3): 1819-1852 [PubMed] [WebPage] [PDF]

Günzel D (2017) Claudins: vital partners in trans- and paracellular transport coupling.
Pflügers Arch. 469: 35-44 [PubMed] [WebPage] [PDF]

Krause G, Protze J, Piontek J (2015) Assembly and function of claudins: Structure-function relationships based on homology models and crystal structures. Semin. Cell Devel. Biol. 42: 3-12 [PubMed] [WebPage] [PDF]

Higashi T, Miller AL (2017) Tricellular junctions: how to build junctions at the TRICkiest points of epithelial cells. Mol. Biol. Cell 28: 2023-2034 [PubMed] [WebPage] [PDF]

Barmeyer C, Fromm M, Schulzke JD (2017) Active and passive involvement of claudins in the pathophysiology of intestinal inflammatory diseases.

Pflügers Arch. 469: 15-26 [PubMed] [WebPage] [PDF]

Eichner M, Protze J, Piontek A, Krause G, Piontek J (2017) Targeting and alteration of tight junctions by bacteria and their virulence factors such as Clostridium perfringens enterotoxin. Pflügers Arch. 469: 77-90 [PubMed] [WebPage] [PDF]

Krug SM, Schulzke JD, Fromm M (2014) Tight junction, selective permeability, and related diseases. Semin. Cell Devel. Biol. 36: 166-176 [PubMed] [WebPage] [PDF]

Lehmann M, Gottschalk B, Puchkov D, Schmieder P, Schwagerus S, Hackenberger CPR, Haucke V, Schmoranzer J (2015) Multicolor caged dSTORM resolves the ultrastructure of synaptic vesicles in the brain. Angew. Chem. Int. Ed. 54: 13230–13235 [PubMed] [WebPage] [PDF]

Christ A, Herzog K, Willnow TE (2016) LRP2, an auxiliary receptor that controls sonic hedgehog signaling in development and disease. Dev. Dyn. 245: 569-579 [PubMed] [WebPage] [PDF]

Milatz S, Himmerkus N, Wulfmeyer VC, Drewell H, Mutig K, Hou J, Breiderhoff T, Müller D, Fromm M, Bleich M, Günzel D (2017) Mosaic expression of claudins in thick ascending limbs of Henle results in spatial separation of paracellular Na+ and Mg2+ transport. Proc. Natl. Acad. Sci. USA 114(2): E219-E227 [PubMed] [WebPage] [PDF+Supplement. "Paper of the month" 03/2017 of the German Physiological Society

Hariharan K, Kurtz A2 Schmidt-Ott KM (2015) Assembling kidney tissues from cells: the long road from organoids to organs. Front. Cell. Dev. Biol. 3: 70. 5 [PubMed] [WebPage] [PDF]

Schumann M, Siegmund B, Schulzke JD, Fromm M (2017) Celiac disease: role of the epithelial barrier. Cell. Mol. Gastroent. Hepatol. 3(2): 150-162 [PubMed] [WebPage] [PDF]

Epple HJ, Zeitz M (2012) Intestinal mucosal barrier function in HIV infection. Ann. N.Y. Acad. Sci. 1258: 19-24 [PubMed] [WebPage] [PDF]

Aktuelle Publikationen des Instituts für Klinische Physiologie: Hier